Our dental team welcomes you to our practice and looks forward to helping you and your child have a positive and engaging dental experience. Each member of our team finds great joy in educating our patients and meeting all of their dental needs. We invite you to contact our pediatric dental office in Staunton, VA, to learn more about our team and our friendly dentist, Dr. Brumbaugh. We look forward to serving you and your family!
---
Crystal Adams – Surgical Coordinator
Crystal has been with us since September 2012 and keeps our surgical schedule running smoothly. She enjoys being around all of our patients with their own personalities. Crystal is happily married to her best friend and they have a little man who just turned six in June. They also have a little girl who joined their family in November 2013.
In her free time, Crystal loves crafting, especially making wreaths, and photographing family and friends. One of her favorite places to go is the beach. She loves the whole atmosphere, the sound of the ocean, the way the sand feels on your feet, and watching families make memories. She always looks forward to family time. One of Crystal's dreams is to go to Destin, Florida, where the sand is as white as baby powder.
---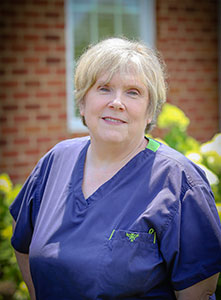 Cheryl Brooks – Financial Coordinator
Since May of 2007, Cheryl has served as our financial coordinator, helping our families keep their insurances up to date and make sure their payment options are easy to understand and done in a timely manner. She enjoys interacting with the children we treat while helping their parents. Cheryl is married and has two daughters and four grandchildren.
---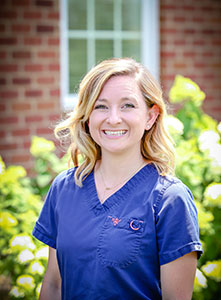 Chasity Burke – Clinical Manager/Dental Assistant/OSHA Coordinator
Chastity has been with us since August of 2007 and loves that working with children allows her to stay young at heart. She strives to help our patients realize that going to the dentist can be fun! She completed her Introduction to Dental Assisting course in Hagerstown, Maryland, in 2002 and her training in Dental Radiation Safety and Hygiene in July 2007.
When not spending time with her nieces and nephews, Chastity enjoys gardening and outings with her friends.
---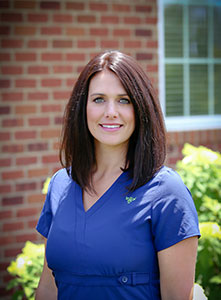 Kerri Campbell – Dental Assistant
Keri is one of our dental assistants and has been serving our patients with a smile since April 2008. She loves the surprise that comes when working with children. You never know what you will hear and it is never a dull moment! Keri received her Bachelor of Science from Radford University. She and her husband, Michael, have been married for five years and have two beautiful children, Harper and Kennedy.
When she is not spending time with her family, Keri enjoys reading Christian books.
---
Sara McKellop – Office Manager / Marketing Director
Since May 2014, Sara has been working with our patients and has recently transitioned from dental assistant to office manager. She attended Virginia Tech and received a Bachelor of Landscape Architecture degree. She was also the valedictorian of her Assist to Succeed Dental Assistant Course.
Sara is supported by her husband Jeff, son Davis, and daughter Paige. When not at our office, she enjoys reading, swimming, and designing. Sara also lived in Costa Rica for two years.
---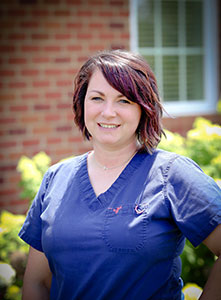 Melissa Penrod – Dental Assistant
Melissa is one of our dental assistants and has been with us since September 2012. She completed the Valley Vo Tech Dental Assistant Program in 2009 and is also X-ray certified. Melissa loves working with children and they always keep her laughing. She has an amazing husband and two awesome boys, whom she loves spending time with. Melissa also enjoys watching her boys play sports, cake decorating, and crafts.
---
Candace Stephenson – Dental Assistant
Candace joined our practice in August 2007 and has loved all of the people she has worked with and thoroughly enjoys working with kids. She graduated from Stuarts Draft in 2007 and currently has a small family that consists of her two dogs.
---
Brooke Boatner – Scheduling Coordinator
Brooke has joined our practice recently and loves how friendly the staff is. Seeing smiling faces throughout the day is one of the best parts of her job. Brooke is in charge of making sure the daily schedule is filled and ensuring that patients are seen in a timely manner for all appointments. We love having her as part of our team!
---
Katie Williams – Dental Assistant
Katie truly enjoys working with children, where you are guaranteed to have at least one child make your day by saying something silly or being complimentary. She graduated from the Dental Assisting Program at Valley Vo Tech and is also EMT-BIFFI and X-ray certified. Katie enjoys reading, spending time with family and friends, and volunteering at her local fire and rescue squad.
---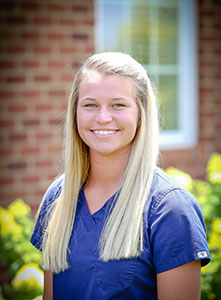 Courtney Fitzgerald – Dental Assistant
Courtney began working with us in May 2016. She enjoys the teamwork found at our office, and she maintains a positive and caring attitude toward every patient.
When she isn't working with us, Courtney enjoys spending time with her two sisters, her 2-year-old nephew, and her puppy Kimber. She loves the outdoors and enjoys working out.
---
---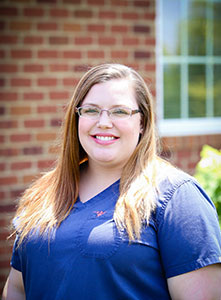 Lauren Williams – Dental Assistant
Lauren has been with us since November 2015. She has two children, Dominick and Natalie, who inspired her passion for pediatric dentistry. She cares for every patient as she would for her own children, and her goal is to be someone who helps children develop positive associations with coming to the dentist. Lauren loves all things Disney.
---
Laura Perry – Pediatric Dental Assistant
Laura has been with us since May 2016. She graduated from Highland High School in 2006. She loves being part of a practice with such an outstanding reputation and being able to make a child's experience at the dentist fun and enjoyable. She is a team player and has a fun, bubbly personality that helps to give children a more enjoyable experience at the dentist.
Laura and her husband of 3½ years have a 3-year-old son named Asher and a fish named Lightning.
---